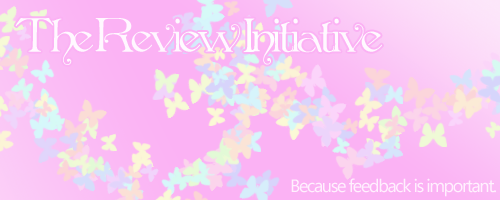 I thought I would give the Review Initiative a shot. As a certified ghost reader, I know for a fact that the number of reviews most definitely does not reflect that actual number of appreciative readers. And that fact makes me feel bad. Check out the post and join me, because I know I will miss a couple of stories or two.
Updated 18 February, 2014
Name:
Allie
Age:
Unspecified
Date of Birth:
3 June
Gender:
Female
Status:
Freshman high-school student, struggling writer
Um. Yeah. Hello. At the moment, Iím questioning my stupid decision of updating my bio because, well, to be honest there really isnít anyone to read the thing. Maybe Iíll put more effort into it once I know Iím not some ghost member like I have been for the duration of my account here.


I like watching anime, though I have this terrible habit of starting them and then not getting around to finishing them. But Iíve worked up quite a list of animes that I am at least somewhat aware of, and I consider that a pretty good accomplishment. Iím also fond of Doctor Who, and Supernatural, which I know are big-shots on Tumblr and such. God, I loved the Doctor Who 50th; that was pure awesomeness right there. Like, bam.


Ahem. Well, for the moment submissions for me are closed, but I am considering writing a drabble booklet or something. At least, as an attempt to get my creative juices flowing, because that reservoir has been dry for some time.


...It physically pains me.
Recent News
I'm doing some edits to Pieces of You. I don't think they're overly major, but if you want to look it over again, you may. Next update (well, next next update, I guess) I'll write a thing about it since I probably won't have everything done for a bit.
Current Works
1.
Pieces of You
, In progress
"There were pieces of them that have always evaded you...until now."
Reader x Various
Response to coeur de pirateís
"〖 70 characteristics challenge 〗"
Current categories: Katekyo Hitman Reborn!
Current characters: Reader, Hibari Kyoya, Gokudera Hayato, Giotto
Current installments:
1.
Hibari Kyoya - ďGentleĒ
(626 words)
2.
Gokudera Hayato - "Restless"
(461 words)
3.
Giotto - "Charming"
(1174 words)
4.
Sasagawa Ryohei - "(Ir)rational"
(659 words) (invalidated)
5.
Lal Mirch - "Worried"
(1296) (invalidated)
2.
Encounter
, Completed
"You were hesitant around him, at first, but that changed soon enough. Especially with those warm brown eyes trained on you, and only you..."
Reader x Dino Cavallone