Click here to skip to the fics.
Any and all flames received shall be made fun of and/or shall be force-fed to Axel to see if he explodes. Do you want to see Axel explode? (Axel: *a splode.*)
General Information
Iím not nearly as active on Luna as I used to be, but you can still find me lurking the recently added list/the front page. You can find me on Runaway_Tales pretty regularly, and on Brutal_Critters every blue moon or so, but FFR is my main haunt now. Well, actually, I just haunt everywhere.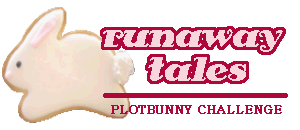 Take the plotbunny challenge!

Blab Box::::
I am a ghost reader. I am a lurker. A comment from me is probably less likely than a blue moon. I favorite things just to get the updates on them (but not all my favorited stories fall in this category). I delete comments before I post them because A.) I didnít finish/couldnít express what I wanted to say, B.) I sound pretentious/stupid/immature/etc., C.) I donít remember why I was commenting in the first place, and for many more reasons. I am a ghost reader. I lurk.
I am a net ninja.
::::End Blab Box
Have you ever sent a piece of writing off to a beta reader and been disappointed when ďI liked itĒ is the only response you get?
Do you leap for joy when assignments get returned covered in red ink?
Does bland praise bore you? Does a good constructive criticism (concrit) make you weak at the knees?
If so, then this is the community for you. Here in
Brutal_Critters
, weíll tear your writing to shreds and pick through its bones. Itís going to be long, hard, and lubeless, but youíll come out the other end with a fantastic piece of work.
HUGS
*HUGS* TOTAL!
give Kremlin_Dusk more *HUGS*
Get hugs of your own
be sorted
@
nimbo.net
Last Updated On:
July 2, 2008